(The above in-home elevator image is a still taken from a video on one of our accessibility renovations in Calgary)
Whether you have been in your home for years or decades, or you've just moved into the perfect spot to spend your retirement, you deserve the enjoyment of every square foot. After all, a life well-lived leads to plenty of mementos, cherished keepsakes, and hobby items to keep you busy in your golden years; what better time to make ample use of the space you have?
But as we age, sometimes parts of our home become more difficult to reach than others. Once-unremarkable activities like simply climbing or descending a staircase can prove challenging, with mobility or eyesight issues increasing the risk of falls and injury. But that's where MyLifetimeHome™ comes in – because we believe that you should be able to move freely around all levels of your home, without worry or safety concerns.
That's why we are proud to bring residential elevators to homeowners aging in place all around Calgary! This growing market has seen major technological leaps in the last few decades, and we are always thrilled when we get a chance to install one for an ecstatic homeowner. It's one more way we are removing barriers for people who deserve the joy of a satisfying, dignified lifestyle in their own home.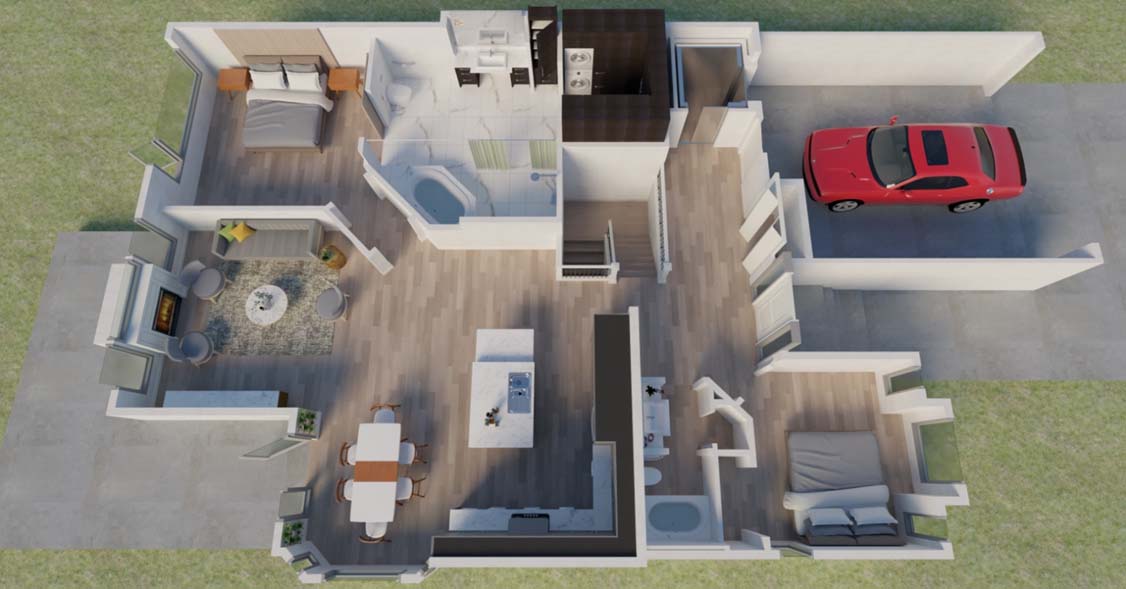 Facts About Residential Elevators
If you're imagining a large, intrusive box that takes up precious space in your home, you'll be pleased to know that some of the newer residential elevators are nothing of the sort (see videos at the bottom of this blog!). They come in a variety of sizes, styles, and configurations to match your needs. From small one-person lifts to true multi-storey elevators, they can completely transform how you utilize available space in your home, and what is possible across each level. 
Can You Put an Elevator in an Existing Home?
Yes! We pride ourselves on creating solutions for all homeowners, and installing elevators is no exception. Through the findings of our proprietary and thorough Design, Needs, and Alignment (DNA) Document, we will identify what setup would work best for you and your family and then use that as a springboard toward a holistic and enriching final design. You will have full transparency along the way, ensuring everything matches your ultimate vision for your home.
Many homeowners are surprised and even shocked at the sheer number of solutions and styles available when we make our recommendations. This is especially true with some of our favourite elevator suppliers, like HomeLifts or Stiltz Lifts, whose elegant and high-end designs do not just perform a vital function – they enhance the room where they are placed and they effortlessly blend in.
What is the smallest residential elevator?
The smallest residential elevators we have worked with are the Stiltz Duo and the HomeLifts Model 750. Both of these are unobtrusive units that fit especially well in corners, bringing two passengers up or down a single level in under 30 seconds. 
These elevators are hardly noticeable, especially when the platform is not in front of you. When you're ready to go to a different floor, simply step in and use the on-board control panel to move to your destination! Built-in safety features – like a sensor that will stop the motor if a part of your body goes outside the elevator door – make this not only a stylish addition to your home, but a safe one as well.
How long does it take to install a home elevator?
Even though the larger models require removal of some walls, flooring, ceiling, and other materials, installing your own in-home elevator is a relatively straightforward process. Installation times will vary depending on factors like your home (the materials it is built with, its age, layout, if you need to upgrade with Calgary electricians and so on), availability of the elevator itself, and the size of its footprint.
For some of the smaller elevators, like the models mentioned above, the work can be completed within one week to one month from start to finish, depending on the engineering or HVAC relocation involved. If you desire a larger model – such as the one used to totally change the lives of these homeowners in this renovation by MyLifetimeHome™'s parent company, Pinnacle Group – the time required will be closer to 5-8 weeks.
If you would like a more accurate estimate of the time needed and what you can expect from a home elevator, we would be delighted to give you a more personalized quote. Simply reach out and let us know! But speaking of different models and investment ranges, you're now likely wondering: how much does it cost to put an elevator in a 2-storey house?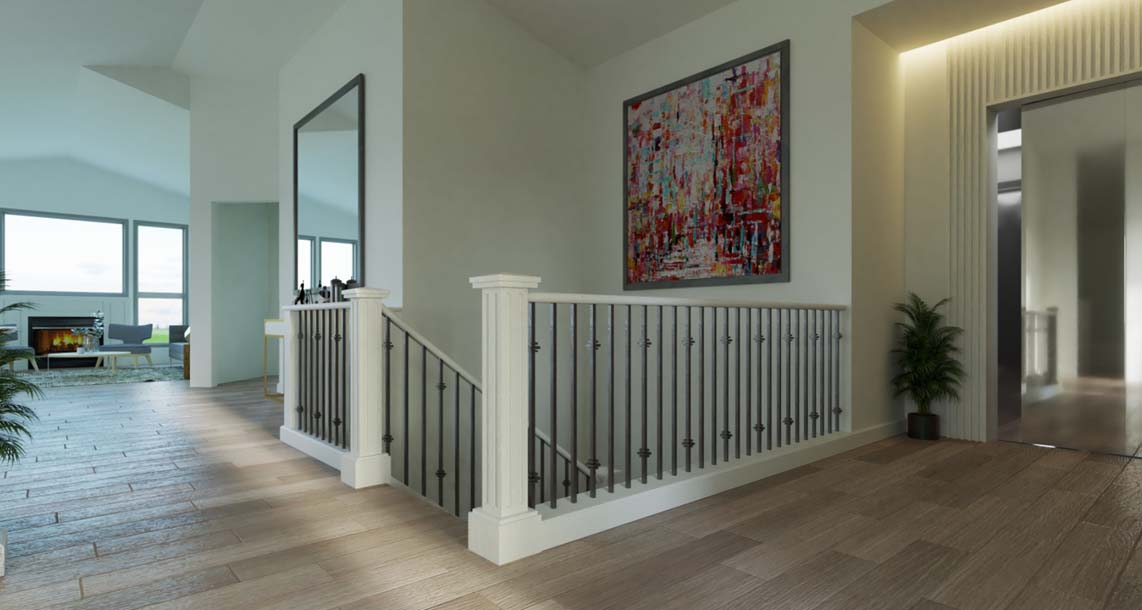 How Much Does It Cost to Put an Elevator in a Home?
With the thrill of this exciting new technology in your mind, it's only natural to wonder if you can afford to put it in your home. You're not alone – we're often asked how much a 3-storey elevator costs, or what the basic investment range is, so that homeowners can create a budget and a plan.
One of the reasons it's difficult to specify numbers is that, generally speaking, costs can vary quite a bit. The simplest models and installations start around $20,000. Due to individual circumstances, needs, and the status of your home, you can expect a range of $40,000 – $70,000 for elevator installation in a new build or double that for a renovation. It depends on:
engineering complexity

placement

services that require relocates

whether it requires an elevator pit or not

other situational factors.
The only way to know for sure is to have a professional designer come in and take a look for a proper assessment.
We also urge you to look into grants, accessibility tax credits, and other incentives for upgrading your home. This may save you thousands of dollars when you file your taxes if you fit certain criteria.
What is the cheapest in-home elevator?
At MyLifetimeHome™, we prioritize the overall aesthetics and beauty of our designs as much as the function they perform. To that end, we believe that you should not compromise on the basic elements of your renovation; after all, the personal touches, thoughtful intention, and inherent luxury in your choices are what turns a house into a true, lived-in, forever home.
With that said, we understand that for some people, the function itself is the most important aspect of an elevator. If all you need is a reliable way to get from one floor to the other, there are budget-conscious options like the Trus-T-Lift from RAM. This is a single-floor lift, usable both indoor or outdoor, made with non-slip metals and capable of lifting up to 550 lbs (250 kg) to a maximum range of 14' between floors. It is more utilitarian in its presentation, but it will perform as you need it to – after all, it's built to withstand the harsh Calgary climate. 
These lifts are highly customizable, for everything from lift height and platform access to higher handrails, backup batteries, and additional locks and railings. Such options will change the associated cost, but the base model starts in the $6500-$8000 range, plus all construction, engineering, and electrical associated with installation.
Creating an Accessible Home in Calgary
True accessibility is about more than being able to get down to your basement and around your home; it's about genuine enjoyment of your own space, enhanced autonomy over your daily routine, and better mobility that leads to a full, dignified lifestyle. Making appropriate aging-in-place design decisions is as much of a science as it is a skill, and we are proud to be among Canada's leaders in the field – we are Aging in Place Specialists, and our founder Paul Klassen is a committee member on the Canadian Home Builders' Association Adaptiv Home Council, ensuring those desiring to create a 'forever home' across Canada can achieve that end by hiring trained professionals.
If you are considering accessibility improvements like an elevator, a customized kitchen, smart technology for your elderly parents, or one of the many other ways you can proactively set up a home for true aging in place, reach out and start a conversation. We would be thrilled to explore a world of options with you, earn your trust, and help you or your loved ones lead the most fulfilling lives possible, now and in the future. 
Take a moment to view these 2 videos of some of our elevators for aging in place!  Or click this link to be brought to one of our testimonials about home elevator installations!