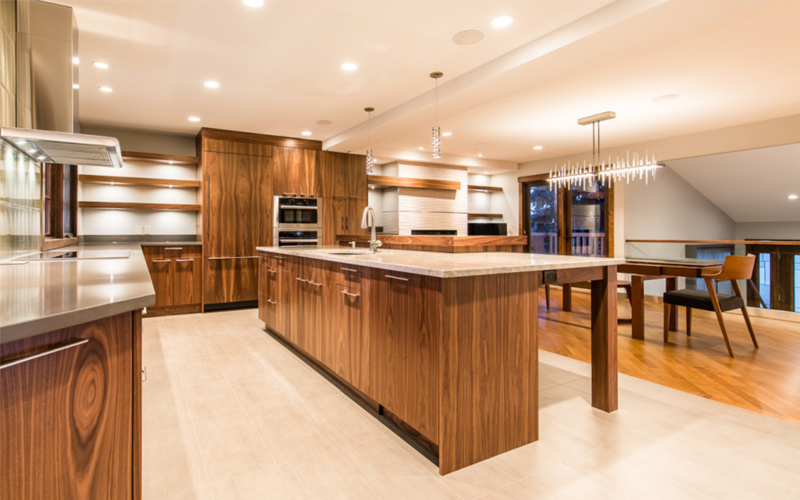 The kitchen is often considered the 'heart of the home', and it's easy to see why. Kitchens are where we cook amazing meals with and for one another, nourishing our minds and bodies; they are where we share experiences, stay up late talking and connecting, and create new memories that we carry with us. This is why, when renovating, building a warm, welcoming, and inviting kitchen space that will last for years is so important. So much time is spent in our kitchens, and every moment of that time should be a collection of memorable experiences with family and friends.
As we age biologically (always young at heart!), it becomes even more important to pay special attention to the hub of our homes, especially if mobility challenges crop up. "The show must go on", as the saying goes – so, regardless of what challenges we face, how we design our kitchens to work for us is crucial to our ultimate joy in the most used room of the house. At My Lifetime Home, we believe that everyone choosing to gracefully age in place should have the same opportunities to enjoy the kitchen functions that they have always had; furthermore, we believe that such opportunities do not need to come at the expense of your home's beauty, functionality, or overall aesthetics.
On this blog, we want to go over some of the biggest factors that we consider when renovating kitchens for aging in place in Calgary and the surrounding area. Many of these factors come into play early on in our design process, during the initial consultation stages, because they should be fully integrated into your home and thus your lifestyle; but in such a way that function and form appear seamless.
Floor Plant and Flooring for Accessible Kitchens
A personalized and inviting kitchen design always begins with the floor plan, ensuring you have the space necessary to enhance your way of life. For example, planning ahead for either a current or possible future need like navigating a wheelchair or a walker requires room to manoeuvre; achieving this without looking 'clinical' requires a true professional. 
Even if any of these mobility issues are not currently required, it pays off to consider them for the future and think about how to set up your home for success both now and later on in life. In doing so, you will have full integration, more autonomy, greater independence, and a constant freedom of movement within your home. We create these 'invisible accessibility' spaces by widening doorways, corridors, and areas between counters and cabinets, as well as implementing open-concept ideas where there are less or even no walls between rooms. This makes movement between areas easier, and proactively prepares you for a lifestyle that may evolve in the future. 
In the end, it all comes down to what you, your family, and your possible caregiver desire and feel necessary – in other words, the entire design should be tailored for you.
Proper Kitchen Flooring for Aging in Place
Have you ever tripped on a transition point between carpet and linoleum or hardwood? Or perhaps you have had floorboards lift slightly, creating a hazard for people passing by? What may have once caused a simple stumble can become much more of an issue during the evolving chapters of our lives. We want to avoid these issues altogether!
The biggest consideration for kitchen flooring during an aging-in-place renovation is keeping the flooring material consistent; however, if a different material is used from room to room, we ensure it is perfectly flush. Using the same material throughout the house and across room transitions makes it easier for the flooring to stay perfectly level, reducing the risk of feet or wheels catching upon it and causing a preventable fall. A well-designed and well-built accessible kitchen will have flush and level flooring, wider corridors, and doorways, and a great design team will ensure details like these are addressed.
Lighting & Smart Device Integration for Kitchen Renovations
Regardless of our age, eyesight can be affected, making it more difficult to see in the darkness or discern between similar objects. It's imperative that proper lighting takes a prominent place in aging-in-place design.
At times, this is not just simply installing more (or more powerful) light bulbs. Overall room design, the prevalence of shadows, poorly lit corners or surfaces, and other factors all play a role, and understanding the circadian rhythm ensures that our kitchens have the correct lighting. In fact, we take this so seriously that our designers are all fully trained in adaptive home living in Canada, with professional certification in specific lighting design, especially relevant through changing seasons and daylight transitions. Our designers know the type of lighting to use, how to choose for functionality (task, functional, or ambient), and how to connect these designs with your individual needs depending on current sight challenges, or simply your lighting desires. When lighting is done well, so much of our daily kitchen routines become – and remain – easier and more enjoyable.
Smart Devices
With the exceptional capabilities of the Internet of Things (IoT), we can automate vast amounts of our everyday lives. We can control lighting, window blinds, appliances, thermostats, and doors with apps on our smartphones – or even program automatic lighting that follows a homeowner through the house, turning on and off as needed. 
This gives everyone the autonomy to live well, even on their own. Imagine the relief of knowing you can enjoy the same quality of life at home, without a caregiver, thanks to the smart implementation of automatic devices! These technology enhancements can augment kitchen tasks, changing them from disheartening activities into a source of joy each and every day.
Height Considerations for Aging in Place Renovations
One of the biggest and most consequential design decisions for kitchens is the height of the cabinets, countertops, drawers, sinks, and appliances.
For proper aging-in-place considerations, everything should be at a height that is and will always be accessible to you; at the very least, design things now so that can be easily modified later. For example, if a homeowner is currently using a wheelchair, countertops and sink areas should have plenty of room to roll under; if they are not using a wheelchair but wish to implement forward thinking, then designs can incorporate these future needs as well by setting up cabinetry to be removed at a later date without affecting flooring or counters. Appliances like microwaves and speed ovens can also be installed below counter depth with power drawers, if desired, making quick cooking so much easier.
The great thing about countertops installed for height considerations is that even when they are used, they do not interfere with anyone's enjoyment of the space, and in most cases provide an invisible accessibility component. Each countertop will still be completely usable for anyone, regardless of whether they are able-bodied or using mobility devices. Table height/lowered counters can be a great aesthetic benefit while ensuring all generations of family can enjoy a meal around an island or peninsula and feel fully connected to everyone in the hub of their home!
Appliances and Accessories in Accessible Kitchens
Have you ever struggled with high cupboards placed over fridges, or corner shelves where you cannot reach all the way to the back? Those are exactly the kind of design elements we remove during accessible kitchen renovations. Our goal is to have everything not only within reach, but easily within reach. 
For cupboards and drawers that are at waist level and below, we use pullout drawers and trays that roll out to their full extent smoothly and easily. Additions like Magic Corners ensure that, no matter our degree of movement or dexterity, we all have easy access into hard-to-reach corners.
For upper cabinetry, we can install pulldown racks that bring the cabinet's items down to a more manageable level. These are designed so that anyone, from small children to those with limited mobility, have full access to their upper cabinetry. 
Appliances such as fridges and stoves can be reconsidered by a professional designer with solutions like base cabinet fridge and freezer drawers, and with cooktops incorporating induction technology that eliminates the burn risk of a grandchild or someone with mobility or dexterity challenges. There is no "one-size-fits-all" solution for aging-in-place appliance setup, though; much of it depends on you, your lifestyle, your needs, and your future plans. The possibilities are endless, but choosing those that will truly benefit you and your loved ones is the key to a satisfying, accessible kitchen experience, every time you begin preparing your favourite meal.
Planning Your Accessible Kitchen Renovations
Creating your perfectly crafted kitchen for aging in place is not something that happens overnight. Even the consultation stage – just the first of our thorough Five-Step Process for delivering exactly what you envision – requires, above all, an experienced design team that not only understands the need, but who have also mastered the art of listening as you describe your vision. After all, you are doing this in order to make your home a comfortable, safe, yet practical space for many years to come; careful planning and designing is paramount for a great outcome.
If you are ready to start discussing your plans for building a more accessible kitchen – a room that will serve you just as well in a decade or two as it does on the first day you move into it – then reach out to our talented, caring, and certified designers at My Lifetime Home. We are always thrilled to help southern Alberta homeowners bring their dream homes to life, and we will be thrilled to guide you through the process, provide additional resources, and answer all your questions along the way. 
We look forward to making your home the very best it can be!